Nadas Home
personal
my school web site
Reflections on DP/CIS/IT at Wright
projects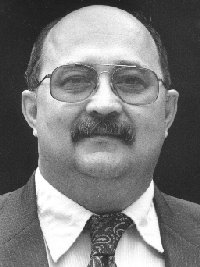 Welcome to my Web site!
It seems that my life has been a series of radical transformations. I was born Nádas Gyula Zoltán in a displaced person camp near the town of Ried, Österreich, on the first day of October of 1945. I was the first of three children to be born to my parents who were Magyar refugees escaping from Budapest only days before it was attacked by the Russian Army at the end of the second world war. I started to attend school in Austria only to find that everyone else spoke German. My parents decided to leave Europe for a better world and we arrived in New York City aboard the USS Harry Taylor on July 17, 1950 where my name was changed to Julius Zoltan Nadas and I found that everyone spoke English. Intially we stayed on a farm associated with the Church of the Brethern in Maryland. From there we moved to Phoenixville PA and then to Cleveland OH where I attended St Patrick school for six years. They were celebrating their centennial at that time. A few years later my father bought a house in Lakewood OH, I skipped a grade and went into the eighth grade in St Rose of Lima school. The following year I was admitted to St Ignatius HS where I was placed into a classical honors program and spent the next four years preparing for the liberal arts. Three new languages, classical Latin and Greek and modern French were my primary diet in addition to literature history and such course. From there I decided to be more practical and went to Case Institute Of Technology where I totally changed from liberal arts into applied science. After that I, like Theodore Kaczynski had done earlier, applied to Harvard. Unlike him, I was not accepted and my next transition was to dairyland USA and the Deaprtment of Mathematics at the University of Wisconsin in Madison. Although my master's degree was in Algebraic Topology, the purest form of Mathematics, I got a job working for Sperry UNIVAC in Roseville MN in software development. A series of promotions had me eventually moving to Chicago IL where I joined the faculty of the City Colleges of Chicago in Data Processing in 1976. I spent thirty years in that field, the last thirteen of which as Department Chair of the renamed Information Technology Department before the job market changed and I moved back into Mathematics.
I guess the lesson to be learned from all this is that one needs to be flexible and go with changes.
This web site is dedicated to my family, my colleagues, my students, and any one else who is even slightly interested in finding out anything about me. Prior to the existence of the world wide web, there really was no way that an average person could display his life to the world for casual observation. The kinds of things you can find out about me just by glancing at these pages were the kinds of things that even best of friends had no way of learning about each other in the past.
I am proud to have been part of the information revolution that has made this all possible.